Purpose of Study for PE
At Wimborne First School, we are passionate about giving our pupils opportunities to succeed and excel in a range of physical activities. We want our pupils to feel confident and secure about their bodies and become physically active. We believe that we provide our pupils with a safe and positive environment which enables them to be inspired to enjoy physical activity.
Our Physical Education curriculum complements our PSHE Jigsaw Curriculum in teaching our pupils the importance of living a healthy, active lifestyle.
Aims of PE
Through PE, all pupils should:
develop competence to excel in a broad range of physical activities
be physically active for sustained periods of time
be engaged in competitive sports and activities
understand values such as fairness and respect
be encouraged to lead healthy, active lives
(Taken from The National Curriculum - DFE; 2013)
Wimborne First also aims:
To encourage pupils to work and play independently and with others in a range of situations.
To develop their knowledge and understanding of health related fitness and what is meant by a healthy lifestyle.
To develop a range of desirable, personal and social qualities such as sportsmanship, communication and how to be a good team member.
Early Years (Reception)
During Early Years, the children learn to move in different ways. They develop their awareness of others when moving around a space and practise changing speed and direction when they are moving. A large focus in Reception is for the children to develop their coordination through activities such as throwing and catching a ball or jumping and landing safely. They work on developing their balance through gymnastics activities.
Key Stage One (Year 1 and Year 2)
In Key Stage One the children learn to master basic movements including running, jumping, throwing and catching, as well as developing their balance, agility and co-ordination; they begin to apply these in a range of activities. They learn to follow rules by participating in team games and developing simple tactics for attacking and defending. The children also learn to use simple movement patterns to perform dances.
.
Key Stage Two (Year 3 and Year 4)
The children in Key Stage Two learn to further develop their basic skills by using running, jumping, throwing and catching in combination as well as in isolation. They develop their flexibility, strength control and balance through a range of activities including gymnastics and athletics. The children learn to participate in competitive games and have the opportunity to attend tournaments and festivals with other local schools, including in tag rugby, tennis, cricket, football and athletics.
The children in Key Stage Two will also develop their ability to compare their performances with previous ones and work towards a achieving a personal best.
PE Premium
For information on the PE Premium, please find it on Key Documents under the Funding heading
Ofsted say:
"The primary sports funding is being used to good effect"
"Pupils' achievement in physical education is good because of the impact of the primary sports funding" (Ofsted Report, February 2015)
Year 1 Sports Festival
On Thursday 16th November, Mice class were extremely lucky to have the opportunity to attend a sports festival at St James' First School. Along with other local schools, the children spent the morning participating in a carousel of activities. From practising their hockey skills to completing relay challenges, the children participated in a range of sporting activities that developed many different skills. It was a wonderful morning and the children thoroughly enjoyed it!
"I like seeing other children from different schools and playing games with them"
"I loved the relay challenge"
Wellies and Waterproofs
What a fantastic fab finish we had in our final session of Wellies and Waterproofs!
With the fire pit roaring and the sun shining (thanks to Change of Life group and Mr Best for setting and starting the pit), the children thoroughly enjoyed snuggling up, singing songs and eating hot dogs cooked from the fire. This was followed by toasting marshmallows which was clearly their favourite part! After a 6 week block of sessions of exploring the outdoors and nature, all the children of the group from both KS1 and KS2 learned how to work as part of a team, problem solving, building confidence and self esteem.
Miss Thomas said "I observed each pupil grow in their confidence and independence and it was a privilege to support them and teach them about the outdoor world."
Playground Ambassadors
On Thursday 19th October, some of our year 4 children attended training day at Ferndown Upper School to become Bronze Level Playground Ambassadors. The children trained and learnt how to become play leaders and how to encourage others to be active, work as a team and build confidence. It was a brilliant day and the children are very keen to lead some new playground developments and develop their own Ambassador's playground zone at Wimborne First. Watch this space to find out more!
These were some of the comments from our newly qualified Playground Ambassadors:
"I loved it - was really fun and we took part in lots of fun activities. We got to make a plan of how to run our (playground) zone."
"I feel very excited about being in the zone."
"It was so fun. I want to do it again and we are going to have our own zone."
"I learnt how to lead people and also learnt new games that we could play with all the younger children."
When asked how they think that this will help the school, they said:
"This will make more people active and make more friends."
"It will let everyone have fun and join in."
"It will make more people active and how to become healthy."
"I think that it will help the school because it will get everyone to play with each other and have fun."
Fun Football Day
On Thursday 5th October, our year 4 girls' football team had a wonderful day full of activities when they attended the Dorset FA Girls' Football Festival at Hamworthy County Ground. They began the day with lots of brilliant workshops including penalty shoot outs, referee training, football skills, face painting and soccercise! They then went on and played a number of five-a-side football matches against other Dorset schools. The Wimborne First Team performed brilliantly and won all their matches, scoring a massive 21 goals across the tournament! The team got even got to meet the Bournemouth mascot Cherry Bear. At the end of the morning, the girls got to meet two players from Yeovil Town Football Club and got their autographs. They were rewarded for their fantastic achievements and all came home with a special goody bag. It was an absolutely brilliant day and we were very proud of our team who showed excellent respect, sportsmanship, determination and fantastic teamwork. Thank you to the Dorset FA for inviting us to attend this event and well done to all the girls who took part!
These were some of the comments the children made about the day:
"There was loads of games and matches but most of all it was fun!"
"I liked everything because it was exciting and fun"
"I want to do more sports now"
Silver School Games Mark 2016 - 2017
We are delighted to announce that we have achieved the School Games Mark Award for the 2016/17 academic year. The School Games Mark is a Government led award scheme launched in 2012, facilitated by the Youth Sport Trust to reward schools for their commitment to the development of competition across their school and into the community, and we are delighted to have been recognised for our success. Our sporting achievements this year include: attending football, tennis, netball, water sports and tag rugby events. We are extremely proud of our pupils for their dedication to all aspects of school sport, including those young volunteers, leaders and officials who made our competitions possible. As part of our application, we were asked to fulfil criteria in the areas of participation, competition, workforce and clubs, and we are pleased that the hard work of everyone at our school has been rewarded this year.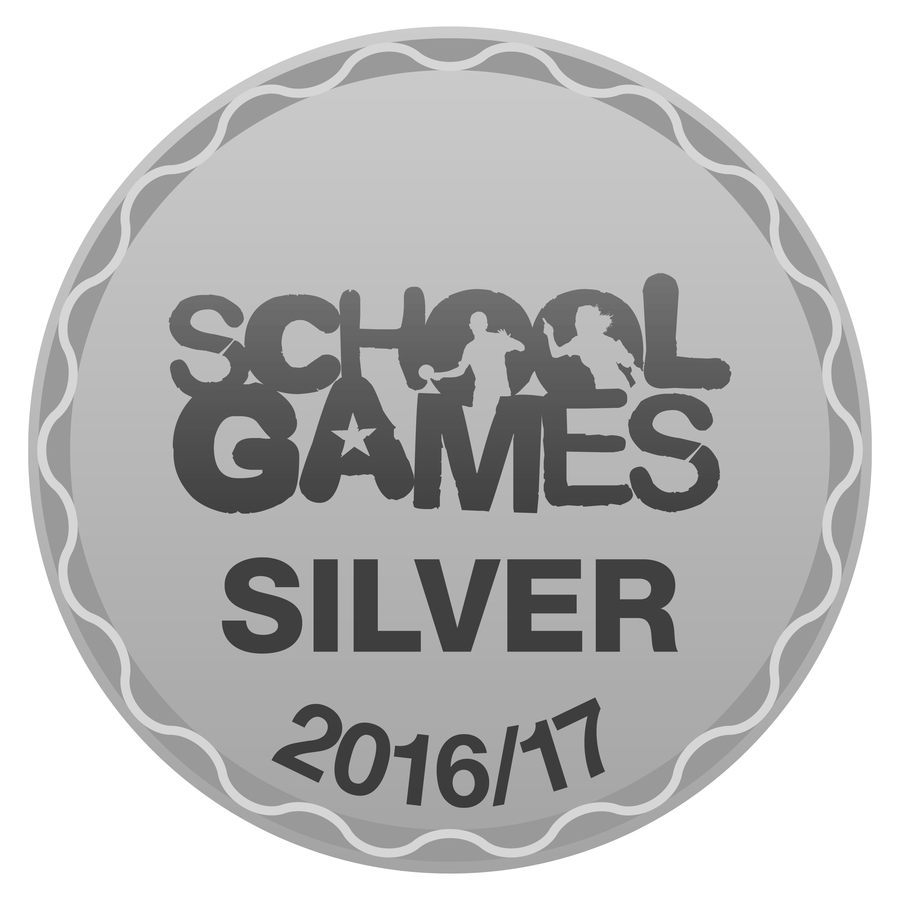 Mindful Movement
The children have really been enjoying going to their Pilates and Yoga through Mindful Movement sessions.
These sessions have been great at developing the children's posture, stability and control as well as helping them to develop breathing strategies.
Dorset Tennis Tournament
This half term, Year 3 have been learning lots of new tennis skills with our teachers and local tennis coach. They have learnt some new games and we have seen some really good rallies! Earlier this week, three teams of talented tennis players from the year group competed at the Dorset School Games Competition. All the teams performed brilliantly and one of our teams has made it through to the next round! A big well done to everybody who took part.
Watch this space for how they get on at the semi-finals!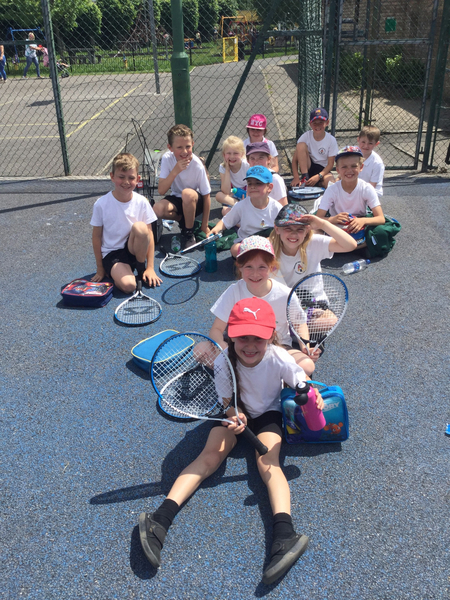 Football Tournaments
Some of our Year Three and Year Four children have been attending an after school football club run by Matty Homes from Wimborne Town Football Club. He has been coaching the children on strategies and skills ready for our football tournaments.
Our teams have recently attended two tournaments and played really well! The children showed good teamwork, respect and sportsmanship and one of our teams even got through to the East Dorset Schools football finals where they came fourth. Well done to all who played. You were fantastic!
Netball Match
Our KS2 Netball club had a great day playing a friendly netball match against Hayeswood First School. All the children showed great teamwork, companionship and sportsmanship.
Well done to all involved!
Football Matches
Our boys and girls football teams played another super match at St Marys First School in West Moors. The children worked fantastically as a team and managed to win both their matches. It was a fantastic event and all children showed respect and played admirably.
Dorset Tennis Finals
Our brilliant tennis team made it through to the Dorset tennis finals. They worked great playing as pairs and individually with some really close games. Our Wimborne First School Team came fourth overall. A great achievement for all the children involved.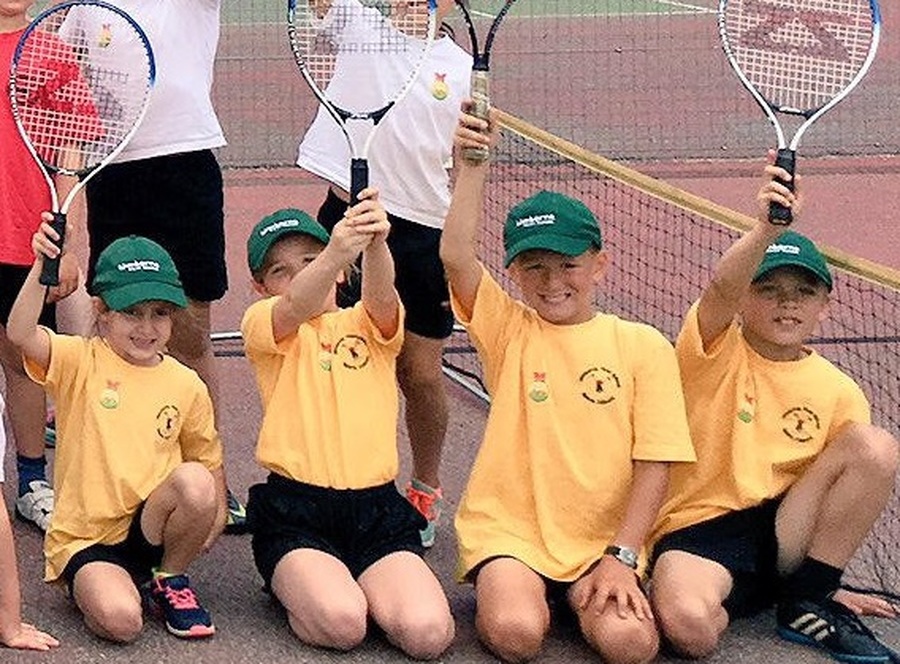 Watersports Festival
Our fantastic year 4 children had the opportunity to attend a Watersports Festival at Rockley Park. It was a fantastic day where the children tried their hands at kayaking. The children had a brilliant day and thoroughly enjoyed the chance to try something new. Well done to all those who took part for their great teamwork and for 'having a go' at something new!