Funding
Pupil Premium
What is Pupil Premium?
The Pupil Premium is additional funding given to schools so that they can support their disadvantaged pupils and close the attainment gap between them and their peers.
The Government have used pupils entitled to Free School Meals (FSM) as an indicator for deprivation, and have deployed a fixed amount of money to schools per pupil, based on the number of pupils registered for Free School Meals. The Government are not dictating how schools should spend this money, but are clear that schools will need to employ the strategies that they know will support their pupils to increase their attainment, and 'narrow the gap'. Schools will be accountable for narrowing the gap, and there is a planned reform to the school performance tables to include new measures that show the attainment of pupils who receive the pupil premium compared with their peers.
Principles
At Wimborne First School we aim to ensure that teaching and learning opportunities meet the needs of all pupils.
We ensure that appropriate provision is made for pupils who belong to vulnerable groups, this includes ensuring that the needs of socially disadvantaged pupils are adequately assessed and addressed.
In making provision for socially disadvantaged pupils, we recognise that not all pupils who receive free school meals will be socially disadvantaged.
We also recognise that not all pupils who are socially disadvantaged are registered or qualify for free school meals.
Reporting
It is the responsibility of the Head Teacher or a delegated member of staff to produce regular reports for the governor's curriculum committee on:
The progress made towards narrowing the gap by year group for socially disadvantaged children.
Plus an outline of the provision in place since the last meeting.
An evaluation of the cost effectiveness in terms of the progress made by pupils receiving a particular provision when compared to other forms of support.
It will be the responsibility of the chairperson of the curriculum committee to make this information known to the full governing body.
The governors of the school will ensure that there is an annual statement to parents on how the pupil premium funding has been used to address the issue of narrowing the gap for socially disadvantaged pupils. This task will be carried out within the requirements published by the Department of Education.
The school is committed to meeting the needs of all pupils, whether or not they are eligible for the Pupil Premium.
Wimborne First School has considered how to use the Pupil Premium funding they receive to support eligible children. If your child is eligible for a funding grant called `Pupil Premium, then you could receive support as follows:
Free School Sweatshirt
Free School Bookbag
Free School PE bag
If you are entitled, and have already purchased these items, the school can give a refund. This offer cannot be repeated more than once a year.
Am I eligible?
To be eligible you must be in receipt of one of the following benefits:
Income Support

Child Tax Credit, provided you are not entitled to Working Tax Credit and have an annual taxable income that does not exceed £16,190

Income-Based Job Seekers' Allowance

Employment Support Allowance (Income Related)

Guaranteed Element of State Pension Credit

Support under Part VI of the Immigration and Asylum Act 1999
How do I claim my Free School Uniform?
As soon as confirmation has been received from Dorset County Council that you are entitled to Pupil Premium funding, the school office will contact you.
The school office will provide you with the school book bag and P.E. bag and arrange a free sweatshirt for you.
You may also be entitled to Pupil Premium funding if any of the following applies to you:
You are the parent of a child adopted from care
You are in receipt of a Special Guardianship or Residence Order
You are, or have been, entitled to the Service Child premium in the last 4 years
You have been eligible for Free School Meals within the last 6 years
Applying for Free School Meals/Pupil Premium Funding
PLEASE APPLY EVEN IF YOU ARE RECEIVING HOT MEALS IN REC/Year1/Year 2
If you feel you could be eligible for free school meals, it is very simple to apply and takes moments to do.
Please click on the following link to be taken to the Dorset County Council free school meals site.
You will be told immediately if you are eligible and the next steps in the process.
The school is committed to meeting the needs of all pupils, whether or not they are eligible for the Pupil Premium.
Wimborne First School Pupil Premium 2012 - 2013
Wimborne First School Pupil Premium 2013 - 2014
Wimborne First School Pupil Premium 2014 - 2015
Wimborne First School Pupil Premium 2015 - 2016
Wimborne First School Pupil Premium 2016 - 2017
Wimborne First School Pupil Premium Strategy 2017 - 2018
Wimborne First School Pupil Premium Strategy 2018 - 2019
Sports Premium
What is the Sport premium?

'The Government is providing funding of £150 million per annum to provide new, substantial primary school sport funding. This funding is being jointly provided by the Departments for Education, Health and Culture, Media and Sport, and will see money going directly to primary school headteachers to spend on improving the quality of sport and PE for all their children. The sport funding can only be spent on sport and PE provision in schools'.
Source Dfe website
Purpose of the funding
"All pupils leaving primary school physically literate and with the knowledge, skills and motivation necessary to equip them for a healthy lifestyle and lifelong participation in physical activity and sport"
"To achieve self-sustaining improvement in the quality of PE and sport in primary schools"
The Government expect indicators of such improvement to include:
The engagement of all pupils in regular physical activity - the Chief Medical Officer guidelines recommend that all children and young people aged 5 to 18 engage in at least 60 minutes of physical activity a day, of which 30 minutes should be in school

The profile of PE and sport being raised across the school as a tool for whole school improvement

Increased confidence, knowledge and skills of all staff in teaching PE and sport

Broader experience of a range of sports and activities offered to all pupils

Increased participation in competitive sport

Schools will have to spend the sport funding on improving their provision of PE and sport, but they will have the freedom to choose how they do this.
Possible uses for the funding include:
New or additional sport clubs

Paying for professional development opportunities in PE/sport

Providing cover to release primary teachers for professional development in PE/sport

Running sport competitions, or increasing participation in the school games

Using the funding to support regular sport tournaments, festivals and competitions for pupils of all ages

Establishing, sustainable partnerships with local community sports clubs

Supporting and involving the least active children by providing targeted activities, and running or extending school sports and holiday clubs

Encouraging pupils to take on leadership or volunteer roles that support sport and physical activity within the school

Providing additional swimming provision targeted to pupils not able to meet the swimming requirements of the national curriculum

Embedding physical activity into the school day through active travel to and from school, active playgrounds and active teaching

Source - Active Dorset Uses for the Primary Sport Premium
How will we be spending the Sports Funding and who will benefit?
The money must be used so that: all children benefit regardless of sporting ability; that the most able children are given the opportunity to compete in
advanced tournaments; that staff have access to training opportunities and continued professional development. All children are given the opportunity to achieve '30 active minutes' within the school day.
Sports Premium 2018-2019
Please read our PE Premium planned expenditure for this academic year.
Sports Premium 2017-2018
Please read our PE Premium planned expenditure for this academic year.
Sports Premium Action Plan 2017-18
Please read the impact of our PE Premium from last year.
Last year, we used our funding to build on the successes from previous years by:
Introducing active sessions during the school day through the Golden Mile and 'Story-cise'

Introducing floor books to track progress in PE and monitoring pupil progress against end of Key Stage expectations using School Pupil Tracker

Attending a wider range of PE events and Competitions targetting different groups of pupils

Running a Change for Life Club

Training Playground Leaders to support an active play ground

Continuing to subsidise the costs of some after-school sports clubs to encourage greater participation in sports

Running an after school football club for talented pupils

Attending local competitions and involving a number of children in these competitions

Running a Mindful Movement group, which combines yoga and Pilates

Continuing to hold lunchtime football tournaments

Continuing to provide enrichment activities by working with local sports clubs

Continuing to review and update playground equipment and PE equipment

Supporting Pupil Premium children with the cost of attending sports clubs

Release the PE Leader from the classroom to manage the impact of the funding and monitor PE across the school

Working to develop staff confidence in PE by team teaching with experienced specialist coaches
The impact of these successes:
During 2017-18, 83% of our children (80% of boys and 86% of girls) in years one to four participated in regular sports activity (73% of Pupil Premium Children). This is an increase from the previous year and demonstrates the impact of using the funding to inspire children to participate in sports activities. We have also seen an improvement in the achievement of pupils against Age Related Expectations in PE. Pupil Voice Surveys demonstrate the positive attitude that pupils have towards PE and sport. If you would like to find out more about the impact of the PE premium, then please contact the PE Leader.
In addition to this, throughout the year and after each event, the PE Leader has conducted a number of pupil, parent and staff voice questionnaires to assess t
the impact of the events and activities organised:
Playground Ambassadors Training: Children from year 4 attended a course to support others at playtimes -
"I learnt how to lead people"

"It makes me feel happy because it gets everyone to play a game and it gets people to be more active and have more exercise"

"It will make more people active and how to be healthy"
Girls Football Festival: FA Girls football festival attended by the Girls who are part of the football team
"There was loads of games and matches but most of all it is fun!"

When asked if it made them want to do more sports, a year 4 child said "yes because we love being outside and having fun" and another, "yes because it calms me down".

"It gives you exercise and it is awesome!"
Change for Life Club: This club was held within school time and targeted KS2 children who do not complete any extra curricular sports activities.
"It was fun and exciting"

"I would recommend this club as people are missing out"
Gym and Orienteering Event: This festival was attended by children who had not been involved in extra curricular physical activity or other sports events.
"It was fun and got my body working"

"I would be interested in a gymnastics club if I am allowed, I want to do more exercise"

"I would like to practise this more often"

"I learnt a lot"

"If I don't understand something, someone could help me" (Why this pupil enjoyed working as a team)
Wake and Shake: This is a morning exercise activity before school where children, staff and parents start the day energetically!
"I liked that everyone danced to the beat." Year 2 child

"It really helped me concentrate more on my work - I could work more on my own." Year 2 child

"I loved doing it." Year 2 child
'Can do' Water sports Festival: A group of children with SEN attended this event and tried their hand at kayaking and other water sports.
"A fantastic day! The children got to experience sports that they had never tried before and develop their confidence and overcome fears, building resilience in the process. They all got a chance to experience success. Parents reported a rise in self esteem in the children." Inclusion Leader

"I worked with my friends - it was lots of fun." Year 4 child

"I loved it! It was nice to do something different at school." Year 4 child
Mindful Movement: Our children worked on their breathing, concentration and balance skills through their Mindful Movement sessions.
"I am overwhelmed with the difference I have noticed in each child. One is able to maintain their focus and concentration for much longer. Another child is now much calmer after her sessions. Another child has dramatically grown in confidence and their core strength is so much better!" Class teacher

"My child is much more confident." Year 4 parent

"He can control his mood much better." Year 4 parent

"His coordination has begun to improve and he is much more aware of his 'edges.'" Year 3 parent

"My child is calmer in certain situation, happier with school life and more positive in general." Year 2 parent

"I feel it has helped him become more focussed and calm" Year 2 parent

"I ask him to use the movements when he is starting to get over excited or agitated. It instantly calms him down and helps him to become more focussed." Year 2 parent.

"I feel awake and relaxed at the same time." Year 2 child
If you would like to find out more about PE at Wimborne First or to look at the enrichment activities that we have been participating in then please visit the 'Curriculum page' and click on PE.
School Games Mark
We have been awarded the 'School Games Gold Mark'. (July 2018)
This award recognises that:
A high percentage of children participate in at least one extra curricular activity

We provide 2 hours of PE per week during curriculum time

We hold regular intra school sports competitions

We participate in number of events and competitions with local schools

We value PE and report events in our newsletters, on our website, and within school

We have links with the local sports clubs, including the tennis, football and cricket club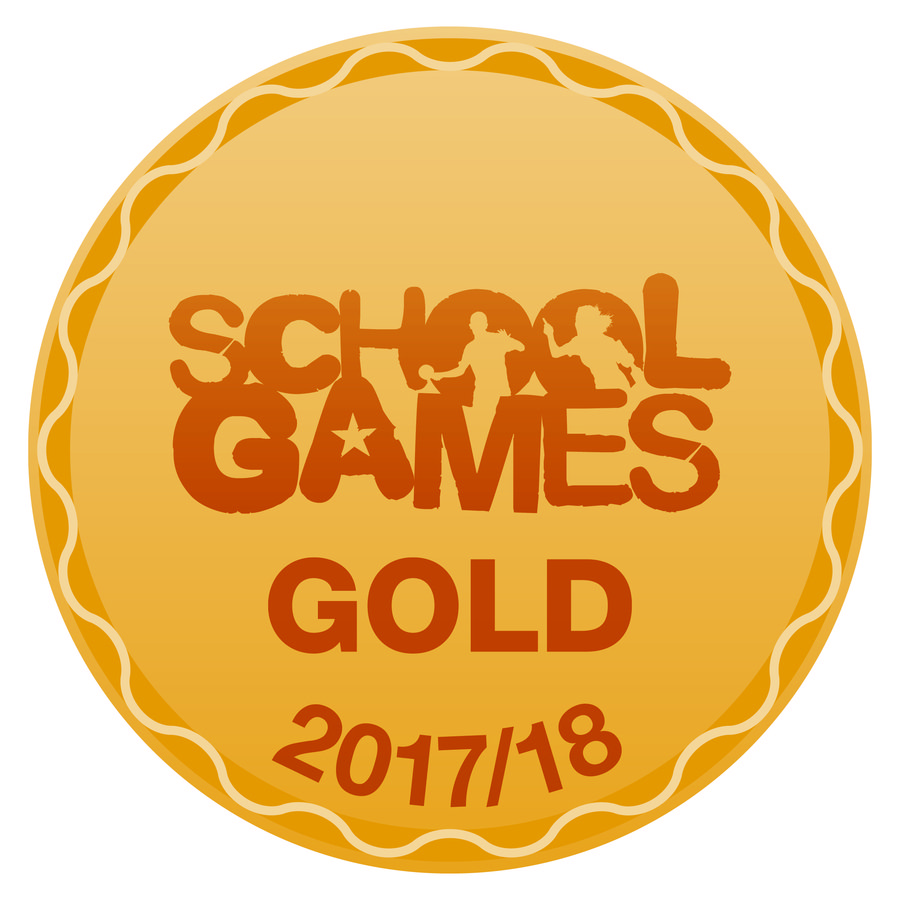 PE at Wimborne First School
Ofsted say:
"The primary sports funding is being used to good effect"
"Pupils' achievement in physical education is good because of the impact of the primary sports funding" (Ofsted Report, February 2015)