Extra Curricular Clubs
There are a range of after school clubs on offer for children to enjoy:
Sports Clubs
We believe that sports clubs are a fantastic way for children to enthuse the children to become passionate about sport and to encourage them to lead a healthy and active lifestyle. The clubs all teach our children skills in team work, cooperation and coordination whilst developing their sporting talents.
Below is a list of the after-school sports clubs run at Wimborne First School and details who to contact if your would like your child to join one of these clubs:
Day

Name of Club

Location

Year Groups

Equipment Required

Cost of Club

Contact details

Website

Monday

3.15-4.15pm

Kidz Academy Dance Club

School Hall

All

PE Kit

£4.50 per session

Liz Rodda

07939010709

www.kidzacademy.co/about

Monday

3.15-4.15pm

Tennis Club

Wimborne Tennis Club

All

PE Kit

£3.00 per session

Phil Loose

07812086441

www.wimbornetennisclub.com

Tuesday

Just Crafty

School Art Cabin

All

None

£4.50 per session paid half termly

Amanda Moore

justcraftyclub@gmail.com

www.justcrafty.co.uk

Wednesday

3.15-4.00pm

Kung Fu – run by Box Martial Arts

School Hall

All

PE Kit

£12 for a 3 week trail

Lorraine Box

07796952570

Wednesday 3.15-4pm

Multi Sports

Wimborne Tennis Club

All

PE Kit

£3.00 per session

Phil Loose

07812086441

www.wimbornetennisclub.com

Thursday

3.15-4.15pm

Gymnastics Club

School Hall

Year 2 - 4

PE Kit

£2.00 per session (subsidised by the Primary Sports Funding)

Please contact the school office for details

www.sportsfirstacademy.com

Friday

3.15-4.25pm

Football Club – Run by AFC Bournemouth

School Paddock

All

PE Kit, shin pads and football boots

£3.00 per session

Please contact Steve Cuss

Steve.cuss@afcb.co.uk

www.afcbcst.co.uk
Please note the above clubs let our facilities and have their own safeguarding procedures and policies. Should you have any concerns regarding the club, please contact the relevant people above.
Music
We work with the Dorset Music Service to provide free music lessons to children in year 3. We also offer private lessons to children who wish to learn music in school, current instruments open to learners are; drums, guitar, clarinet and flute. Should your child wish to learn a musical instrument, please contact the school office.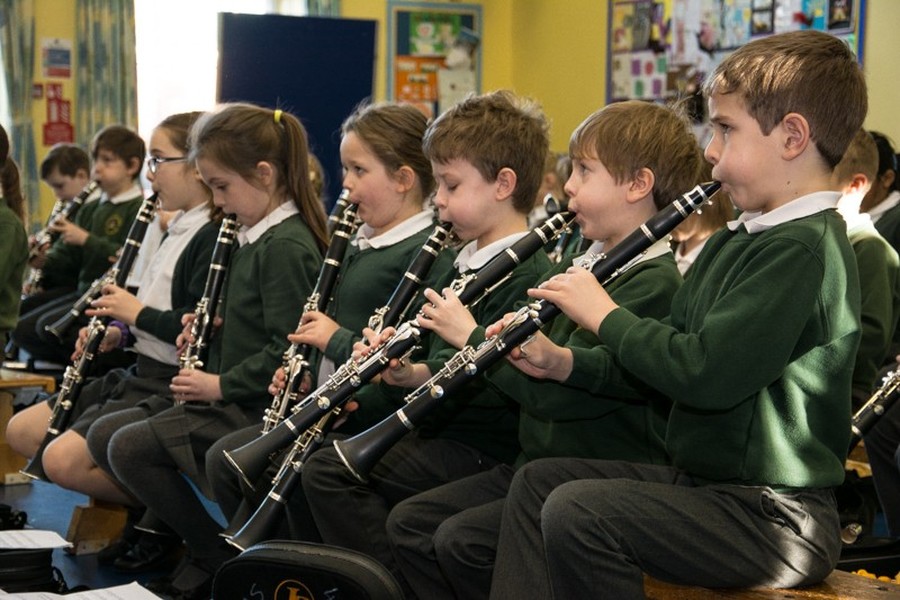 Mindful Movement
The children really enjoy Pilates and Yoga through Mindful Movement sessions.
These sessions are great at developing the children's posture, stability and control as well as helping them to develop breathing strategies.
If you are interested in these sessions, please contact our Inclusion Leader.