Star of the Week
Every teacher chooses a member of their class to be the 'star of the week'. They may be chosen for trying hard, being resilient, having a good attitude to learning, showing manners and respect, being thoughtful towards others or demonstrating good behaviour choices.
Miss Charlton presents each of them with their star cushion, which they get to sit on in class for the week, a badge and a pencil in the Friday assembly.
Our stars last week were:
Hayley - for her effort and imagination in English when creating her story.
Myles - for excellent concentration during phonics and using his sounds to blend and read words.
Basil - for extending his learning by asking questions.
Ella – for always being smiley and positive in everything she does.
Sophie – for her brilliant contribution to her class. She is a great role model and always tries her best.
Amelia – for trying very hard to partition 2 digit numbers.
Paige – for her excellent attitude to all learning and always showing she is ready to learn.
George – for brilliant handwriting this week.
Harry – for fantastic writing in all subjects and for thinking carefully about his presentation.
George – for fantastic handwriting and always taking his time to present his work beautifully.
Sticker Chart Successes
Children earn stickers for their sticker chart as an immediate reward for success, effort and good behaviour choices.
Once their chart is full they bring it to Miss Charlton and receive a prize and a certificate.
Children who completed their 20 stickers chart last week were:
Flora, Billy, Milly, Olivia, Scarlett
Sadie, Lily, Sam, Edward, Molly
Vi, Ashton, Oliver, Dylan, Timothy
Findley, Tayen, Nate, Maisie
Oscar, Basil, James, Ava
Children who completed their 40 stickers chart last week were:
Milo, Florence, Lucia, Joseph, Lucy
Children who completed their 80 stickers chart last week were:
Florence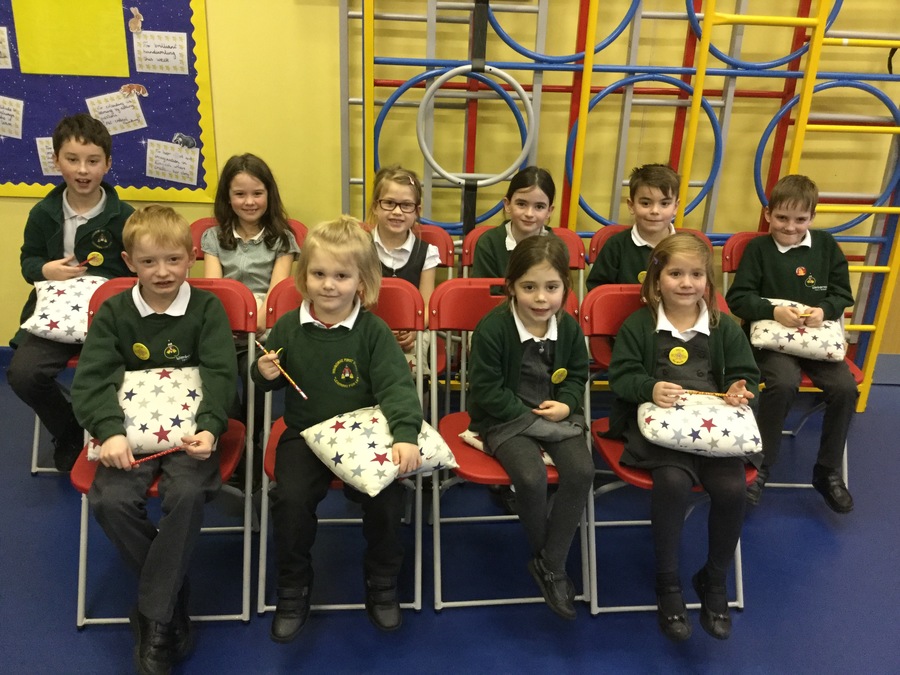 Attendance Achievements
Attendance – Week ending 12th January 2018
Whole school attendance is currently 96.82%.
Year 3 are leading with an excellent attendance figure of 97.60%, well done Year 3!
Attendance per year group:
| | |
| --- | --- |
| Overall | 96.82 % |
| Year R | 95.39 % |
| Year 1 | 96.64 % |
| Year 2 | 97.40 % |
| Year 3 | 97.60 % |
| Year 4 | 96.77 % |
And another thing..................
It's back! Friday saw the return of Wake and Shake before school. As ever our enthusiastic staff were there leading the session from their mini stage. I saw many parents and carers dancing along but we need the children to get involved too. A short session such as this is not only good for core physical development but also supports focus and concentration.
I'm looking forward to our numbers growing over the next few weeks.
See you Friday Wake and Shakers!