Our vision for PE
At Wimborne First School, we are passionate about giving our pupils opportunities to succeed and excel in a range of physical activities. We want our pupils to feel confident and secure about their bodies and become physically active. We believe that we provide our pupils with a safe and positive environment which enables them to be inspired to enjoy physical activity.
Our Physical Education curriculum complements our PSHE Jigsaw Curriculum in teaching our pupils the importance of living a healthy, active lifestyle.
Aims of P.E.
Through PE, all pupils should:
develop competence to excel in a broad range of physical activities

be physically active for sustained periods of time

be engaged in competitive sports and activities

understand values such as fairness and respect

be encouraged to lead healthy, active lives
(Taken from The National Curriculum - DFE; 2013)
Wimborne First also aims:
To encourage pupils to work and play independently and with others in a range of situations.

To develop their knowledge and understanding of health related fitness and what is meant by a healthy lifestyle.

To develop a range of desirable, personal and social qualities such as sportsmanship, communication and how to be a good team member.
Wimborne First School PE Policy.docx
PE 2016-2017
This year, using our funding, we are going to build on the successes from previous years by:
Continuing to run Change for Life Club (this will begin in the Summer Term)

Continuing to subsidise the costs of some afterschool sports clubs to encourage greater participation in sports

Running an after school football club for talented pupils

Attending local competitions

Running a Mindful Movement group, which combines yoga and Pilates

Having a 'Mindful Movement' staff training to teach staff about this to use with classes and to support teachers wellbeing

Continuing to hold lunchtime football tournaments

Continuing to provide enrichment activities by working with local sports clubs

Continuing to review and update playground equipment and PE equipment

Support Pupil Premium children with the cost of attending sports clubs

Release the PE Leader from the classroom to manage the impact of the funding and monitor PE across the school

Develop CPD opportunities for staff where required, including supporting Newly Qualified Teachers with their professional development

Working to develop staff confidence in PE by team teaching with experienced specialist coaches
Please read our funding document to find out more about our spending of the PE Premium:
School Games Mark
We have just received the 'Sainsbury's School Games Silver Mark'. This award recognises that:
More than 35% of our children participate in at least one extra curricular activity

We provide 2 hours of PE per week during curriculum time

We hold regular intra school sports competitions

We participate in number of events and competitions with local schools

We value PE and report events in our newsletters, on our website, and within school

We have links with the local sports clubs, including the tennis, football and cricket club
PE at Wimborne First School
During 2015, we had a specialist from Active Dorset come in to school to support us to assess the quality of our PE provision and PE teaching. The 'Bolton Council School Self Evaluation of Subjects – PE (2012)' was used to evaluate and describe PE provision at Wimborne First School:
Pupils are able to work independently when given the opportunity, taking the initiative in their work and when working with others

Pupils have exceptionally well developed understanding of making healthy lifestyle choices

Pupils demonstrate good levels of physical fitness

Effective action is taken within the subject to enable most pupils to reach their full potential

Almost all pupils have access to at least two hours of high quality PE in the curriculum each week

Pupils apply themselves and are effective at evaluating, making adjustments and adaptations when performing in different contexts
Ofsted say:
"The primary sports funding is being used to good effect"
"Pupils' achievement in physical education is good because of the impact of the primary sports funding" (Ofsted Report, February 2015)
PE 2015-2016
Last year, we built on what we established in previous years and used our Primary Sport funding to:
Purchase new equipment for PE lessons

Release the PE leader from the classroom to manage the funding; to assess the quality of PE teaching and support PE teaching

Continue to provide enrichment activities for children to inspire them to enjoy school sport

Release teachers and TAs to take children to additional enrichment sporting events

Pay staff to run a 'Change for Life Club' http://www.nhs.uk/Change4Life/Pages/primary-schools-sports-clubs.aspx

Subsidise the cost of some after school clubs to allow more children to participate in sport

Support pupil premium children with the cost of participating in after school clubs

Update playground equipment to encourage school sport at lunchtimes

Provide opportunities for children with a particular talent in a sport to participate in additional activities. We work closely with other schools in Wimborne and our School Games Organiser to do this.
We currently have 61% of our children participating in regular after school sports clubs.
Please read the document below to find out about the impact of last year's funding.
PE Funding document 2015-16.pdf
Tennis Tournaments
Throughout the summer term, some year 4 children participated in East Dorset Tennis Tournaments. The children worked really hard and one team qualified and won the East Dorset Finals. They then went on to participate Dorset Tennis Tournament where they came 5th overall.
We are very proud of all their efforts and the brilliant sportsmanship shown by all children. The were respectful and demonstrated good sportsmanship,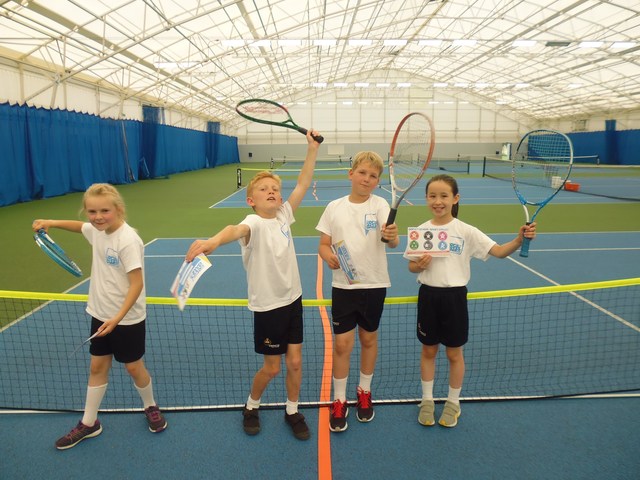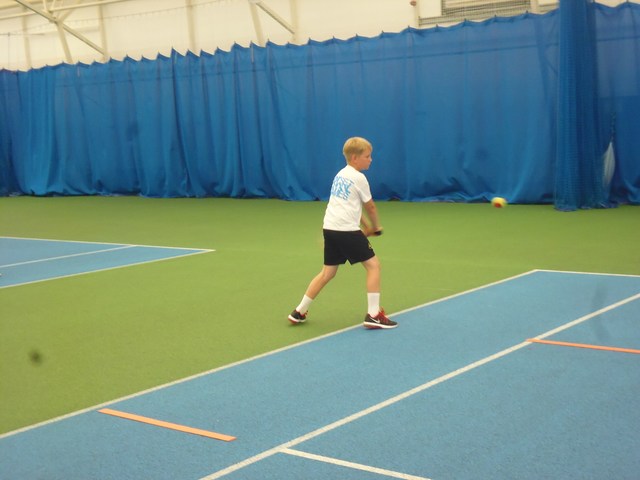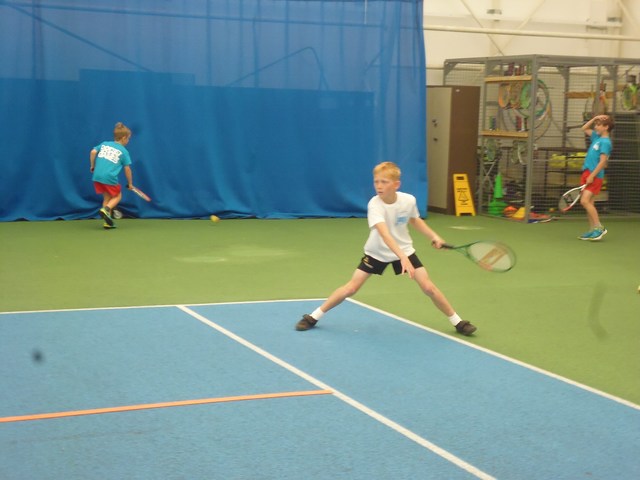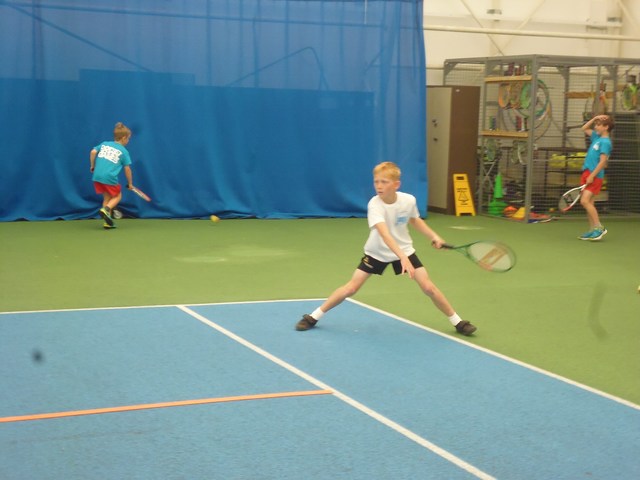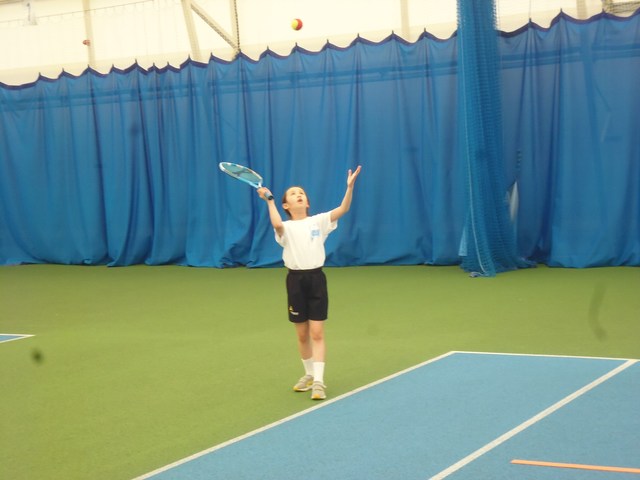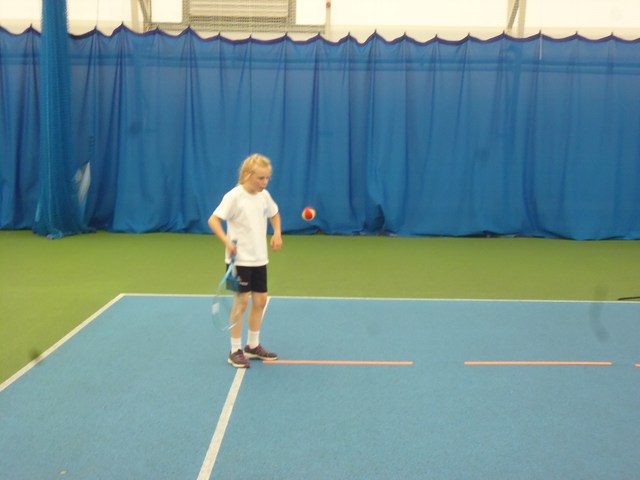 Kwik Cricket Fun Day
On Monday 9th May, children in Year Three at Wimborne First were treated to a fun day of cricket. In the morning they decided their own team names and captains. They then designed their own posters and flags, developing their teamwork skills through each activity. In the afternoon the children practised their throwing, catching and batting skills and took part in their very own Kwik Cricket tournament. Trophies and medals were awarded to children who showed great skills and team work. It was a brilliant day in school and there was lots of excitement across Year Three.
Kwik Cricket Festival
On Monday 9th May, children from Year Three visited Canford School to participate in a Kwik Cricket Festival. The children had a fantastic day teaming up with children from other schools in Dorset playing lots of games. It was a fantastic day which was thoroughly enjoyed by all.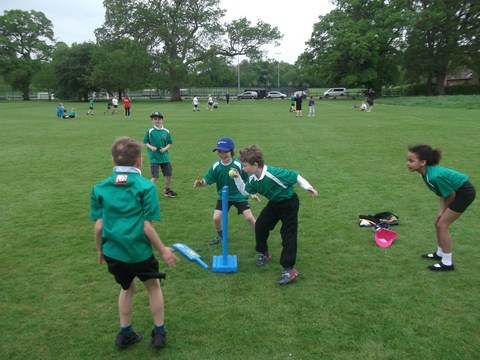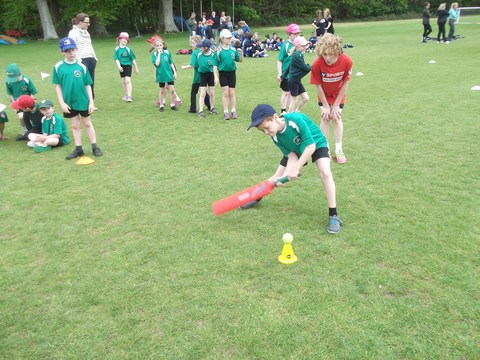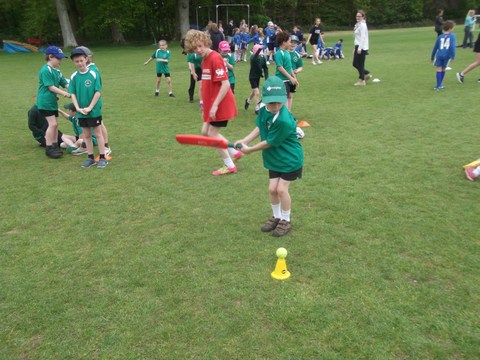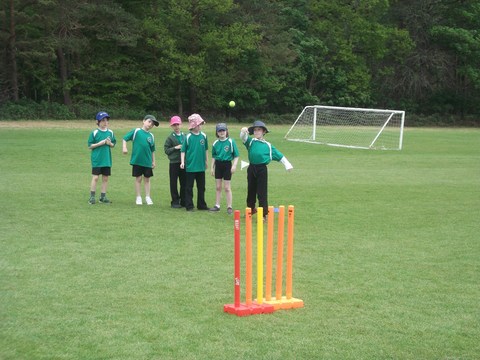 Tag Rugby Festival
On Friday 22nd April, children from Badger Class visited QE School to participate in the School Games Tag Rugby Festival. Despite the very wet weather, the children remained in high spirits throughout the day and absolutely loved playing tag rugby against the other schools from East Dorset. They did a fantastic job supporting each other, working as a team and improving with every game. Young Leaders from QE School did a great job at refereeing the matches and although we came home cold and wet, we thoroughly enjoyed the day!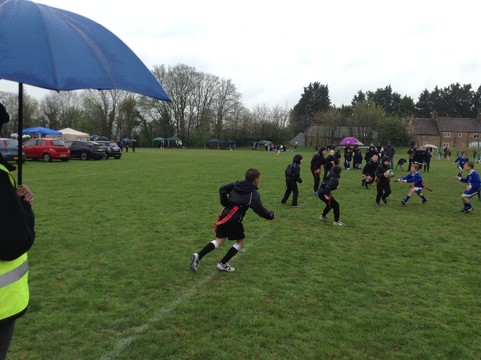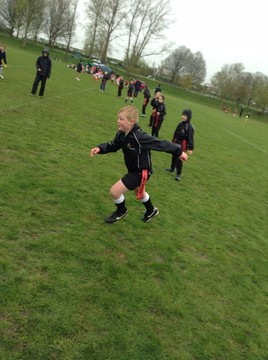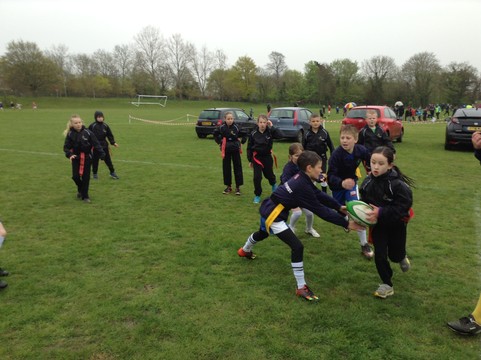 Netball Match
On Thursday 21st April, Wimborne First School's Netball Club participated in their first ever netball match. We played a friendly game against Merley First School. Our netballers made a great team and worked well together to win 12-4! The children demonstrated great sportsmanship and thoroughly enjoyed participating in their first ever match.
Thank you to Merley First School for hosting the match, to all our parents for their support and to Miss Drake for coaching our brilliant team.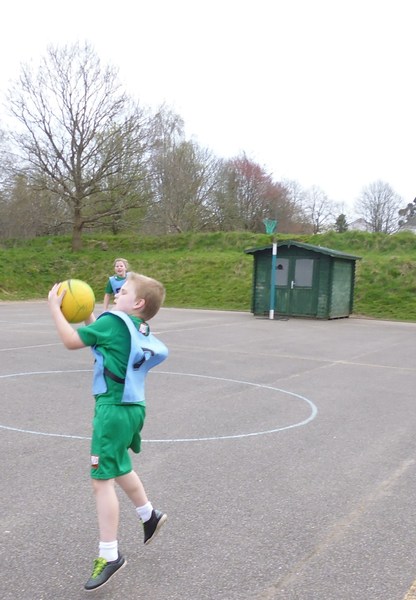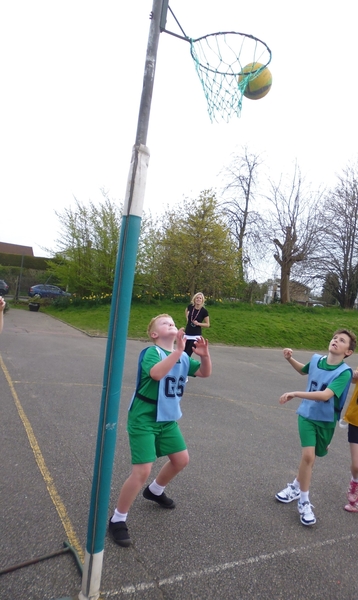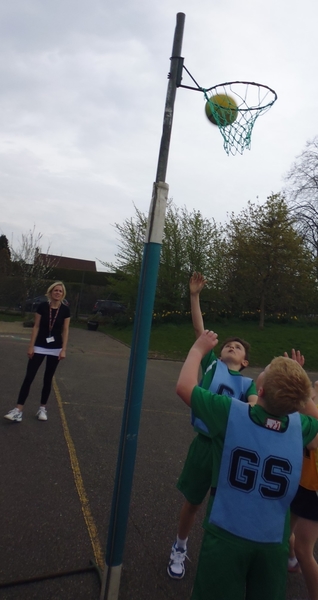 Sport Relief - Friday 18th March
Ready, set, go! Wimborne First School walked, ran and played games all in aid of Sport Relief.
During the action packed day, the children were lucky enough to try out a number of sports activities. Thanks to Mrs Hampton, the children were able to have a relaxing introductory session to Pilates which was lots of fun! They also visited Wimborne Tennis club and enjoyed refining their bat and ball skills. Playing team games was also on the agenda during a session with Vinny from Danny Thomas Coaching Academy which was loved by all!
We also managed to complete our own one mile walk around Wimborne. We chanted and collected money for Sport Relief during our walk, which finished at Allendale Centre where we sung the Sport Relief song, 'Step it up for Sport Relief'. Thank you to the Allendale Centre for inviting us to sing there and to all parents and family members who came out to support us and watch our singing.
All in all it was a fantastic day. We raised a massive £225 for Sport Relief from collections during the walk alone. In addition, we raised a massive £1717.22 from sponsorship. This bought our Sports Relief total to £1942.22 which is amazing! Thank you to all of you for sponsoring your children.
Thank you again, to all parents for their support with event.