Our topic for the 1st half term is:
'Marvellous Me'
Welcome to Reception to our new Moles and Hedgehogs!
It is going to be a fun filled half term of making new friends and finding out about each other through our 'Marvellous Me' topic at the beginning of our exciting learning adventure.
The children will be busy practising to write their names and mark making, counting and ordering objects in maths and investigating signs of Autumn in the 'wellies and waterproofs' area. We will introduce our Jigsaw friend 'Jenie' who will help us to make a classroom charter and recognise the importance of working together and understanding the many emotions starting school can bring.
The children will also be learning to dress and undress themselves for P.E and exploring equipment in the hall and outside by looking at different ways of travelling. There will be plenty of time to enjoy all of the exciting activities inside and outside whilst getting used to our class routines.
Please see the link below for the Curriculum Map:
Curriculum Map Autumn 1 - Marvellous Me
Our topic for the 2nd half term is:
Colours Bright and Sparkly Lights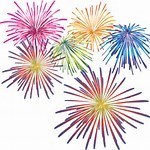 For the second half of the Autumn term, we begin with an exciting fun filled firework week; the children will be making rockets, looking at size ordering and even making our own chocolate sparklers. Throughout the term, the children will be focusing on their number recognition, addition and subtraction, learning about 2D shapes and money in maths and beginning to learn the set one sounds through our phonics lessons. We will be reading and enjoying the story 'The Rainbow Fish' and exploring colour mixing, collage and looking at the work of the artist Kandinsky to create our own prints.
The most exciting part of this half term comes in December, where the children go from new members of Wimborne First School to singing, acting and dancing superstars on stage in our nativity spectacular! We look forward to seeing you all there.
Please see the link below for the Curriculum Map:
Curriculum Map Autumn 2 - Colours Bright
Please see the link below for the PowerPoint used at the Phonics meeting: