Learning Journey
This week we have been learning about instructions. We followed a set of instructions very carefully to make our own bottle top boat. We have even learnt about the type of words we use in instructions too!
Being outdoors is so much fun. There is lots more growing in our wellies and waterproofs garden and we are enjoying our weekly football sessions with Wimborne Town Football Club.
We learnt our number doubles up to 10 by adding the same amount again. We even learnt a song to help us!
Subtracting is so much fun when you count back as you squash!
We love phonics in reception! This half term, we have been using our sounding out skills to read and sort real and alien words.
Let's get physical! We have loved all of our PE sessions this term which was finished off with a fantastic day to raise money for Sport Relief. Thank you for all of your donations.
In number fun, we have been learning how to add and subtract, we are practising recording number sentences and checking our number formation, which is really developing. The Very Hungry Caterpillar has helped us to learn the days of the week too!
Developing our physical skills in the outdoor areas. We love sand and water play, printing, cutting, building, mark making and exploring the Wellies and Waterproofs garden!
We love working as a team!
We had lots of fun drawing minibeasts on the iPads.
For our fab finish we had a magical time at our Cinderella Ball. Dressed in our finest fairy tale clothing, we dined on the party food we bought from Waitrose and danced beautifully with our partners.
Having fun in our Wellies and Waterproofs area.
Discovering new computing skills whilst exploring the i Pads and programming the Bee-bots.
Working together in reception!
Our first Christmas Nativity, 'Shine Star Shine' was a huge success. We worked so hard to make it a performance to remember and were thrilled to see so many smiling members of our families in the audience.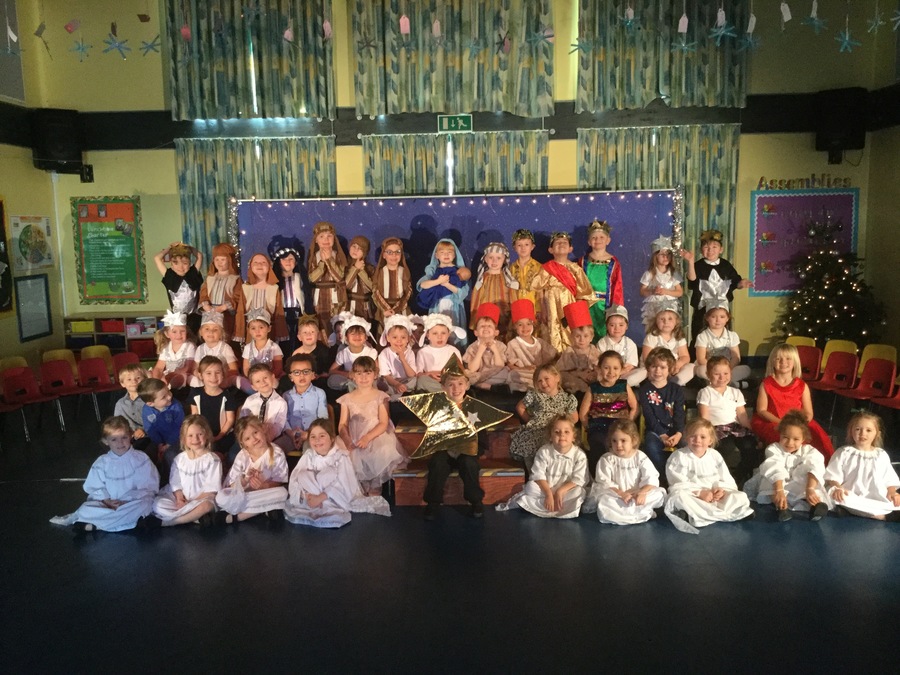 There has been lots of huffing and puffing as the children used the story props to retell the story of the three little pigs. It was great to see the children using language from the well known tale as they retold it in their own words. We found out that building the three houses was really tricky too!
In our number fun sessions, we have been learning all about repeating patterns. We created a repeating pattern and elephant ears to turn into our very own Elmer hat! We had lots of fun as we took part in the elephant parade in the playground.
There has been lots of counting going on in Moles and Hedgehogs, we have been practising counting objects to 5 and beyond. As well as this, we have learnt to recognise the numerals 0-5 and 0-10 and put them in the right order too.
Lots of initial sounds to find in the trays! We have been using our phonic knowledge to mark make and write initial sounds in different materials.
PE fun! We have really been enjoying our outdoor PE sessions. Our throwing and catching skills are improving every week!
We have had a super start to the year in Mole and Hedgehog Class. All of the children have settled in wonderfully and are thoroughly enjoying all of the new experiences on offer. We have been getting to know one another and making lots of new friends. The children have particularly enjoyed sharing their play times with the older boys and girls and we are all very proud of how they have taken on the new routines so quickly. Well done everyone!